Every business is looking for clients to purchase their products and services. If you have done your research and are providing a service that fills a need, the next step is to find clients to serve. 
JCW's 9 Step Marketing Plan helps you lay a foundation, then build on that foundation to attract, nurture, and turn leads into customers. Regardless of the size of your company, you should complete all nine steps. The nature of the business and the markets it plans to go after will determine the complexity of each step in this process.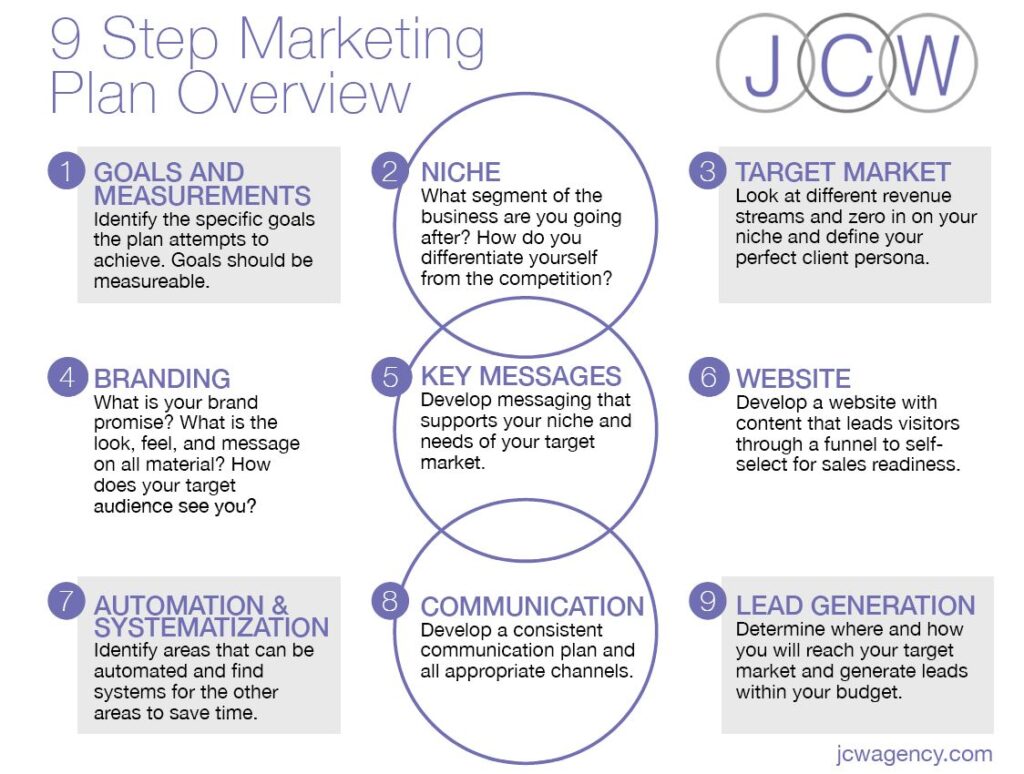 Foundational Steps in the Marketing Plan
Step 1: Setting SMART Goals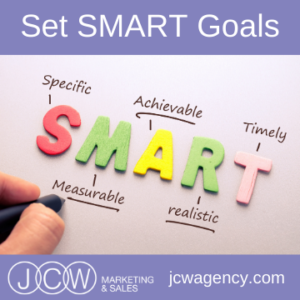 The first step to any plan is to determine where we are headed. That is The Goal. 
In our 9 Step Program, we walk through SMART goals to ensure that there is no question about what the goal is or when and if we have achieved it. We have several tools to help you determine what your goal should be. By setting an ambitious, yet achievable goal, you ensure that you cover your costs and are profitable as you work towards long-term objectives.
Part of the Goal Setting Process is setting goals that are measurable–and measuring them. We walk you through the importance of a dashboard and how to create one that you and your team can follow. What is measured, is achieved.
Step 2: Developing your Niche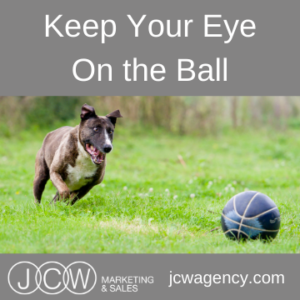 To develop a niche, you need to understand what your company does, who your general target market is, and what separates you from your customers. This is commonly known as a mission statement, a vision statement, the core business, or, more casually, the sweet spot or the ball. It helps to keep you focused on what it is that your company does. 
It is important to keep your eye on the ball. We have all seen entrepreneurs that keep "chasing squirrels." That is very typical and what makes them unique. With an appropriate niche in place, you can determine if you should be chasing that idea–or sticking to your core focus.
Step 3: Developing the Ultimate Client Persona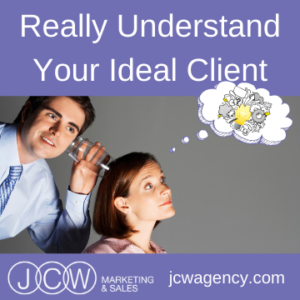 In step 3 we take your target market to the next level. We guide you in developing your Ultimate Client Persona. This has also been called your Ideal Client or Avatar.
Personas are fictional representations of your ideal prospect and customer, whom you are trying to attract with your marketing efforts. This is a piece that we spend quite a bit of time on, since most people tend to forget it or not spend enough time to really understand what drives the behavior of their target market. We go beyond demographics and psychographics, and focus on your ideal customer's needs, pain points, and buying processes. We help you understand who the actual decision maker is for the purchase, and the emotions that trigger them to buy.
People make buying decisions based on emotion. Understanding the emotion and what leads them to that emotion is an important step when developing the remainder of your marketing. In Step 3,  we encourage our clients to focus on their clients, not their service. Understanding the needs of the clients, separate from the features or benefits of your products or services, will help develop marketing that speaks directly to those people.
Step 4: Key Messages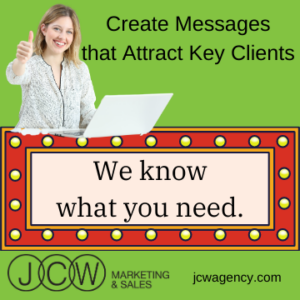 Key Messages should be reviewed often and updated based on what is happening in the world. In Step 4, we teach you how to develop your messages in a way that speaks to the target audience. 
Marketing is intended to attract our key clients and nurture them through mass communications that are personalized to their needs. If you can produce clear and concise messages that resonate with your personas, you have a better chance of attracting those clients. Remember, a client will never purchase if they are confused. This step teaches you how to develop strong messaging suitable to various means of delivery.
Step 5: Branding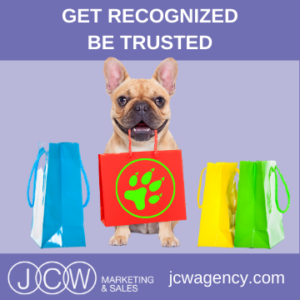 Unless you are a laundromat or a convenience store, i.e., a local business frequented from necessity or convenience, your company will need a brand. A brand gives your company its own identity and differentiates you from the competition.  
Brands are developed to give your company its own personality to develop emotional relationships with customers. When developing a brand, we look at the identity, its trustworthiness, the tone in which the brand will speak, and what it looks like. If there are gaps in the brand, or something that is inconsistent, it will start to create dissonance, which may result in loss of trust from your target market. While branding may seem like small stuff, it is an especially important aspect of your business.   
Step 6: Website Development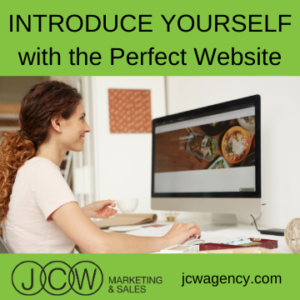 A website is way more than an online business card or brochure. Your company website is an extension of your team. 
Often, your website is the first impression that your potential client will have into your company.  To keep prospects engaged, a website needs a balance of communicating the clients' needs in a way that is easy and appealing to them. An effective website incorporates your key messages, has images clients relate to, and features a color that is attractive, eye-catching, and blends with your brand.  
The navigation of your website should take your client down a typical purchase journey. The website should answer 90% of the questions that your ideal client may have about your business. It should be interactive, using automation tools that help your ideal client find the information that they need. Most importantly, there should be a way for a client to input their contact information to get in touch so that you can send them even more about your offerings.
Step 7: Systems, Processes and Automation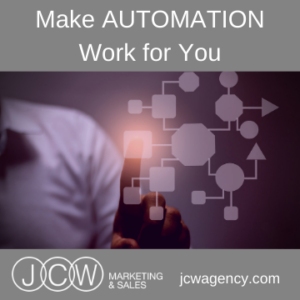 Successful companies always have systems and processes that they follow. As a matter of fact, typically what makes a franchise so appealing is that someone has done the hard work to determine those processes for the franchisee to work from.  
A system is a detailed method, procedure, or routine created to carry out a specific activity, perform a duty or solve a problem. Processes are a smaller part of the larger system that include ordered steps and checklists to help get something done. Processes help the team know what to do when. 
Having a process in place provides for a consistent experience that clients learn to trust. With processes, your business will run effectively. While you may have many processes within your business, you also want a process specific to marketing.  The following graphic shows a very simple marketing system.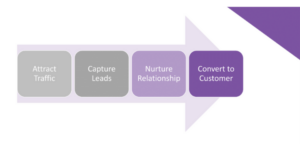 Automation helps a company to activate those processes automatically. Some can be simple automations, such as a response to an email that lets the customer know that you are out of the office for the day. More complex automations include auto responders to a form file and drip campaigns that understand your target audience and communicate in a way that resonates with them.
At JCW, we have partnered with SharpSpring. Using this marketing automation tool for almost six years, we have developed automations that communicate with the customer at the right time, and also send out reminders to our team to reach out at the right time. Many larger companies have been using SharpSpring for years. Recently, these tools have become much more affordable for small- and medium-size businesses.
Ongoing Marketing Activities
Step 8: Developing Communication Channels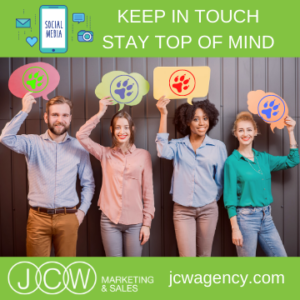 Our goal in this step is to determine how best to spend resources to nurture relationships with our leads. We need to communicate with prospective clients in the best way that they will receive the information, in a way that develops clarity, personality, and resonance with them.  
In Step 8, we identify ways to nurture leads and create a plan to be consistent with our communications. In marketing, we say that only 3-10% of our target market is ready to buy immediately. Another 30% would be interested in purchasing our product or service at some point in the future. This step is intended to go after that 30% while keeping current clients informed and happy.
Step 9: Lead Generation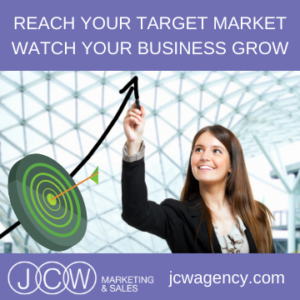 Lead Generation is the purpose of all of your marketing efforts. While this is the first step in which a lead may find you, it is the last step in our process.  
We see so many companies that want to jump right into Lead Generation. They want leads and they want them now. While you can and need to do what you can to keep your machine going, following the previous steps will help you spend your resources–both time and money–in a way that maximizes your return on investment.  
Our program helps you to determine the best ways to reach your target market and develop strategies that help you reach your goals. In Step 9, we look at digital advertising, traditional advertising, networking, events, and so much more.
On-Line Classes to Learn to Create a Marketing Plan
Our mission is to help companies achieve their goals. We have developed a 10-Week Class that covers the process described in this blog post. 
Our 10-Week Class is perfect for the entry-level marketing professional ready to take their knowledge of real-world marketing strategies to the next level. Small Business Owners and CEOs who completed the class gained a deeper understanding of marketing in today's digital world. Contact us to inquire about upcoming classes.
If this class isn't for you, we are happy to do the work for you. Fill out the form on our website. See marketing automation work. Then, meet one of our team members who will do the process for you.